In that case, work from home influence your posture and causing pain in your body. Yoga is a great way to handle all of it. It doesn't need any extra equipment and can be performed even in a small space as well. While there are tons of applications dealing with Yoga, only a few of them are value your time.
Anyways, you don't have to look them for yourself as I have done that already. Therefore, Here are the Best Free Yoga Apps for Beginners in iOS and Android Devices! Each one is Worthy of the storage space on your Mobile, according to the thousands of people who use them to practice. Apart From, nothing beats the convenience of being able to flow on your own from the comfort of your living room, right?
Best Yoga Apps for iOS and Android
If you are exploring to start a new practice, or are a seasoned pro, these Best Free Yoga Apps for Beginners in iOS and Android are a great way to learn the basics or change things up.
1. Daily Yoga – Yoga Fitness Plans
2. Yoga by Muscle and Motion
3. Keep Yoga- Yoga, and Meditation
4. Yoga | Down Dog
5. Yoga Tools
6. Yoga for Beginners
7. Yoga 108
Daily Yoga – Yoga Fitness Plans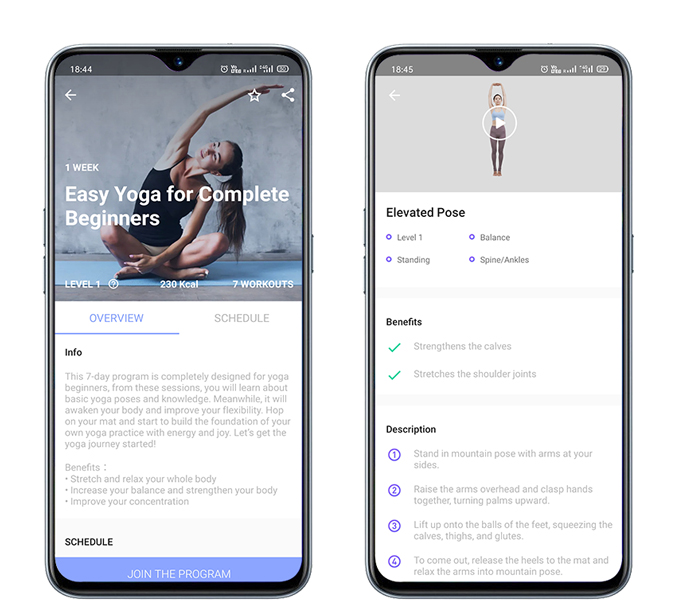 The Wall Street Journal has awarded this app as one of the "5 Addictive Fitness Apps". Undoubtedly, the best UI in the list. Similar to other applications, it has a collection of pre-made sessions like 10 Day flexibility, yoga basics for Beginners, flat ABS challenge, etc. Apart from this, you can also create target specific courses for yourself if you want to attain flexibility, tone the body, or relieve stress. Even You can use the audio section for Soft music to calm yourself down and Relex. Although playing music from your local storage can cost you up to $9/month, which also removes the ads and gives you added features like exclusive personal, workshops, plans, enhanced library.
What Is Good?
The Huge repository of the lessons
Advance filter options like based on level, type, price, etc.
What Is Not?
Many good sessions fall under the pro categories
Can be overwhelming for someone who likes a simple app
DOWNLOAD LINKS : (iOS | Android) 
Yoga by Muscle and Motion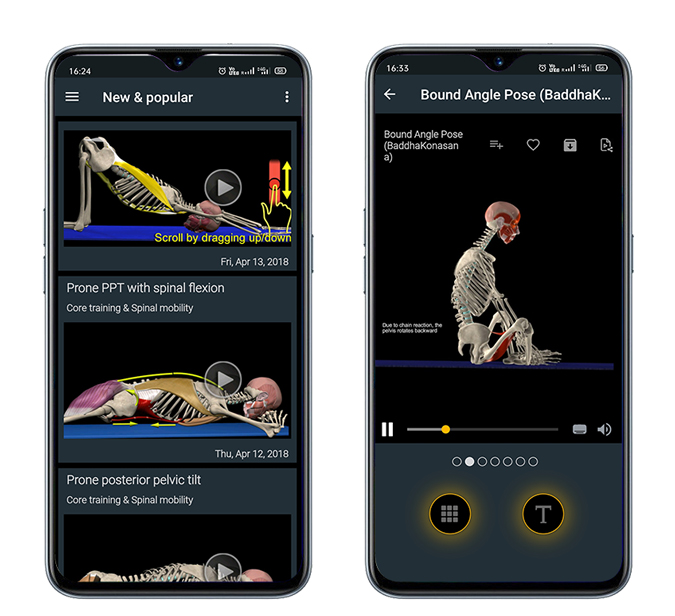 It is essential to learn the science behind Yoga, Even not just the poses. Knowing which muscle, ligaments, and group each Yoga pose targets help in a better understanding of your body language. This application helps you do just that with a specific analysis of asanas. The asanas are illustrated with audio-video detailing and teach about the muscle working along with the common problems that you might face while you are performing these asanas. The application is easy to browse. The poses are grouped under sitting postures, rotation postures, forward bend, etc. It is a great app, but if you want full access and download for offline viewing, the subscription comes in up to $15/month.
What is good?
Detailed information about asanas effect on muscles
An additional section, As like muscle anatomy, therapeutic exercises, etc.
What is Not?
Requires fairly speedy Internet
Costly for casual users
DOWNLOAD LINKS : (iOS | Android) 
Keep Yoga- Yoga, and Meditation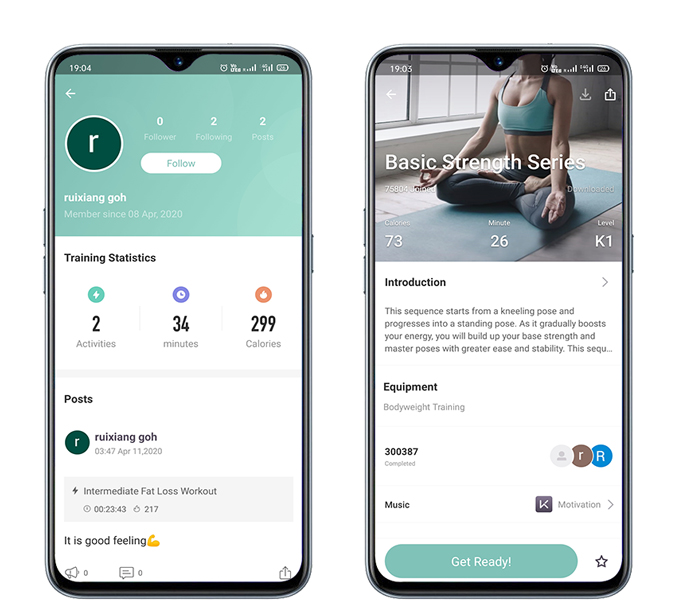 Social networking assists you to stay motivated, and this one lets you do that. You have a profile where another user can follow and comment on your posts and activities. The applications require you to sign-up and set up a profile with general personal info along with other details such as the nature of work, and daily activities performed, etc. Apart from Yoga poses and sessions, it has also featured audio meditation courses to train the mind along with the body. You also don't require to manually track your progress as it has a workout log section where you can also check your training history. It has one drawback. You have to download these sessions separately to be able to use them.
What is Good?
Social Media, like UX, keeps you motivated.
Workout Log on the home screen
What is Not?
Text in sessions covers the illustration.
Needs downloading individual sessions to do the workout
DOWNLOAD LINKS : (iOS | Android) 
Yoga | Down Dog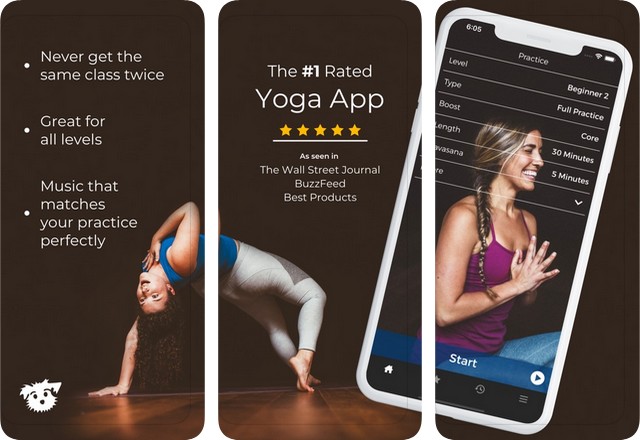 Down Dog, The most suggested Yoga app, and also an editor's choice on the Play Store. First off, the app needs a sign-up to use it. Even You can customize the sessions according to your level and comfort. You do that by selecting the length of the course, type of Yoga, and even select from six multiple instructional voices. Besides that, there the app packs a three day introductory series, which develops a primary understanding of Yoga—for example, heart Yoga, intro to Vinyasa, and restorative practices. The sessions even can be downloaded for offline viewing, so you don't have to effort about an active internet connection all the time.
It is free until 1st May to help people workout at home for free.
After which it costs $7.5/month.
What is Good?
Customizable Sessions
Save favorite poses and download practices.
What is Not?
Nothing in my opinion
DOWNLOAD LINKS : (iOS | Android) 
Yoga Tools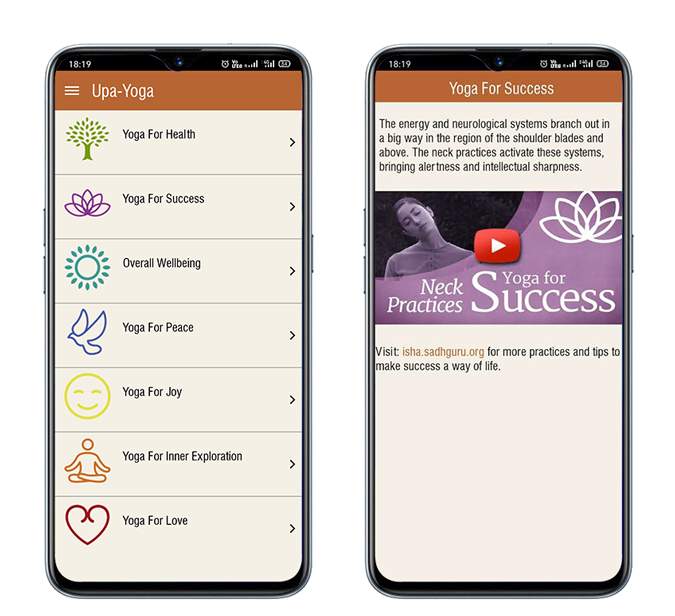 The application is developed with the guidance of a Popular Indian yoga guru, Jaggi Vasudev. There aren't a lot of exercise options, but I am mainly suggesting this application due to the narration and overall experience of each course. There are video sessions arranged into sections like Yoga for success, Health, over-all well being, etc. However, what makes these sessions, unique from others is the primary talk by Jaggi Vasudev, Indian classical music, and some well-illustrated Yoga poses. If you have an ability for this and don't want to go through long sessions, I'm sure using this application will calm you down along with your body relaxed.
What is Good?
Info on guidelines and benefits to perform
Excellent narration and Small duration sessions
What is Not?
There aren't a lot of Poses
Not many features, but just video sessions
DOWNLOAD LINKS : (iOS | Android)
Yoga for Beginners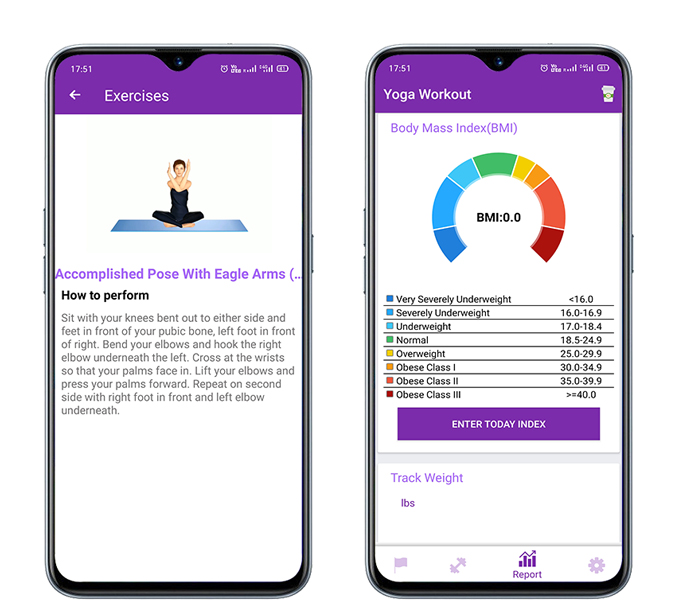 If you are a starter and just starting out, here is an application that is specifically designed for you, and it is free. The application features of 3D animated models that mimic the Yoga poses, so you can follow easily through in addition to text instructions. There are a lot of workout sessions that you can select from, such as a complete beginner course, core yoga session, morning yoga, etc.My favorite features include a built-in calendar, BMI calculator, and, most essentially, a daily reminder to keep you on track. Therefore, if you are a beginner, download the app, simply set a time, and don't be lazy.
What is Good?
The app is entirely free.
It supports a built-in calendar and daily reminders.
What is Not?
Can't remove the ads
Without the option to save or mark favorite poses
DOWNLOAD LINKS : Android 
Yoga 108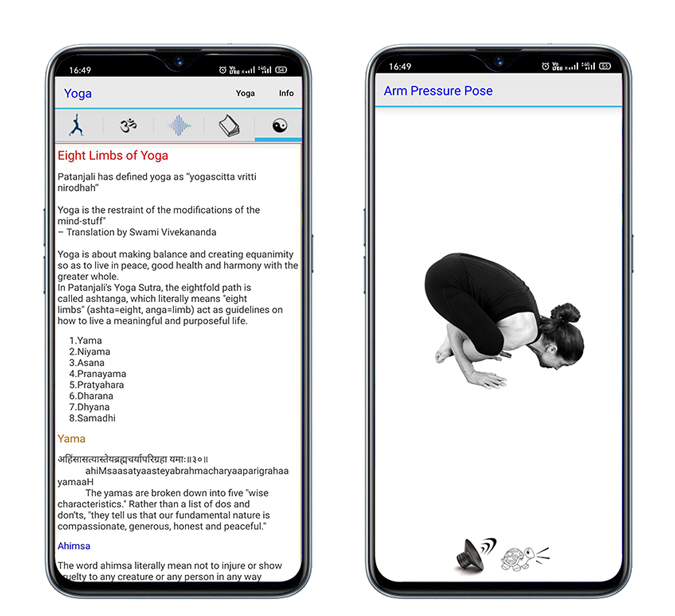 If you are a starter, Yogi, I'm sure you'll be puzzled with all the Sanskrit yoga jargon. Certainly, don't worry, you can not only learn about the names but gain more information about them with the application. The connection is nothing fancy, and that's what I like the most about the application. It has 2D poses along with the name pronunciation with both fast and slow speeds. In addition to that, you will also find prayer narrations such as the Guru Brahma, Gayatri mantra, etc. There are guidelines on authentic Patanjali Sutras with complete info. The application is free of charges and contains no ads.
What is Good?
To the point and informative content
Includes audio prayers as well
What is Not?
Limited pose repository
Not suitable for tutorials
DOWNLOAD LINKS : (iOS | Android) 

Conclusion :
Take your own time and read about it before plunging into the world of asanas. If you want to start righnow, I'd recommend download the Down Dog, which is now free until 1st May 2020, so you might as well make full use of it.  Evan, You can check out Yoga with Adriene, which is a YouTube channel and enjoys a lot of trust amongst the community. Anyway, this was my list of Best Free Yoga Apps for Beginners in iOS and Android. You can also check these Content For Health And Fitness Apps.