Sometimes, Your goals are out of reach, especially if you haven't set clear goals for what you want and when you'll have gotten it. Vision boards can help you figure out how to fix this issue.
People make vision boards by putting together pictures or words related to the goals they want to reach. Taking the time to create a vision board and looking at it when you need inspiration can give you a big boost of confidence.
If you'd rather spend less time making a real vision board, many apps for your phone make it easy to make one online.
With these apps for your iPhone, iPad, or Android device, you can find pictures, create affirmations that match your goals, and do other cool things. Check out our recommendations for the best apps to create vision board goals and get started on your long-term goals!
1. Vision Board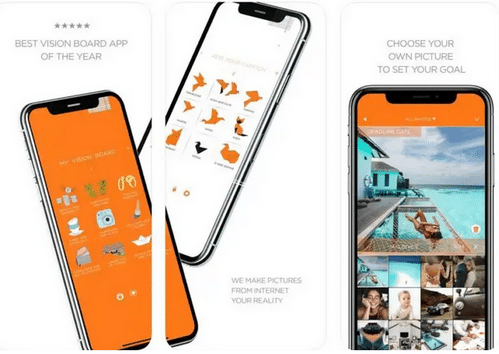 This app has many great features, but the vision board tasks are pretty simple. This app lets you set pictures for each type of goal, a due date and an explanation for each picture. Anything from your photo roll can be shared as an image.
You can get the paid version of the app for $2.99 a week, $5.99 a month, or $29.99 a year. It has more features. When you update, you can make unlimited vision boards, get rid of the ads, create your boards, and change the look of your vision board app.
2. Why Vision Board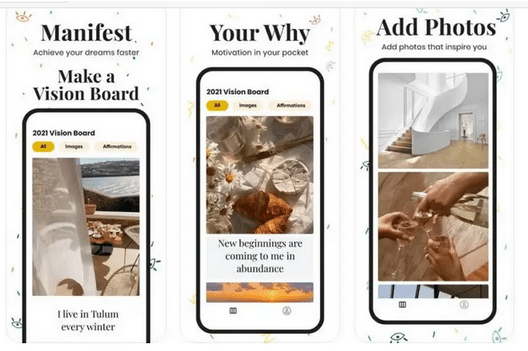 You are opening the Why Vision Board app for the first time will help you make your first vision board by walking you through picking pictures and writing your goal affirmations. You can also add as many pictures and affirmations as you want. After you create your board, you can scroll through it in three different ways: with images and affirmations, just images, and only affirmations.
You can also edit your board by adding more images or life goals, changing the title, setting alerts, or rearranging the images. This app tracks how many days you look at your vision board, all at once and one after the other. Good thing it's all free.
3. Dreamer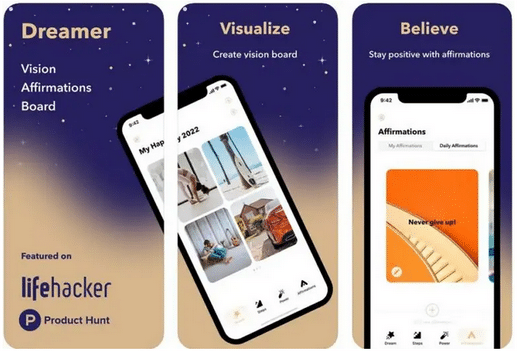 You can use Dreamer to make your vision boards work for you. When you create a goal, mark it completed and add notes to the images. You can add the steps you need to take to reach each goal and set alerts in the Dreamer app, which is great. This can help make big dreams seem more within easy reach.
There is also a journal and a tool for affirmations in the app. You can get even more features in the paid version of the app, like the ability to make as many vision boards as you want and a huge library of images. You can join for $4.99 a month and try it out for free for seven days, or pay $15.99 once and go ahead and use it ever after.
4. Horizons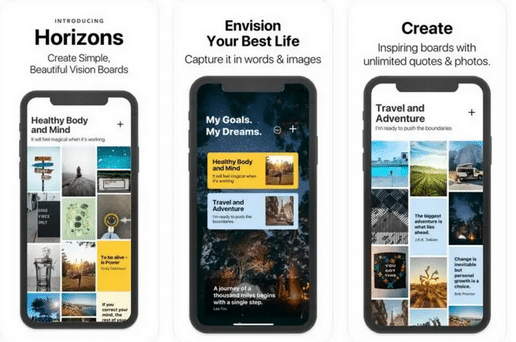 Using the features included in this app, you can create numerous vision boards for different parts of your dream life. How to create your first board will be walked through by the app. You can then add as many pictures or lines of text as you want. Beautiful quotes will also be added to the app for you to read.
On the main screen, you can see all of your boards and pick one of two ways to use them. The vision boards can be seen in four unique ways. For writing down ideas, there is a journal on every vision board. You can "upgrade" the app for an extra $4.99 to get more vision boards, photos, and text files.
5. Sparkello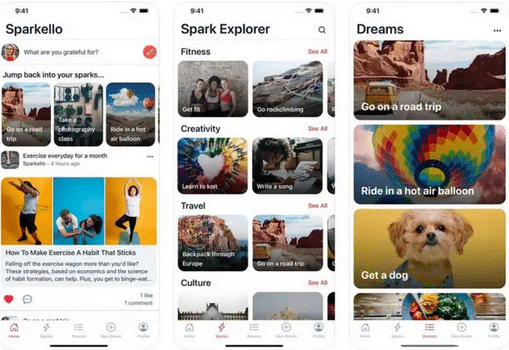 Why do you want to make a vision board? For that, Sparkello is a great app. In the app's area, you can search for goal inspiration. The app has a social media feel because you can respond to ideas read or create posts. Also, Using the app's Dreams tool, you can create your board by adding your goal and choosing a picture.
If you want more social networking features and inspiration for your goals, Sparkello is an excellent free app.