Best 10 White Noise Apps for iPhone . The only thing that seems to be able to free us from the troubles of this world is music. Some of us prefer to listen to music even while we sleep.
There are now hundreds of music streaming apps that let you listen to high-quality music. But what if you want something to help you fall asleep faster than music?
Listen to White Noise if you have trouble falling asleep or can't focus.
Many white noise sleep apps for iPhone can help you get to sleep faster and better. The music in White Noise apps can help you focus better.
What is White Noise?
White Noise can be thought of as brain-stimulating music. White Noise can cover up loud sounds by essentially containing all frequencies at the same intensity.
Those experiencing sleep issues and disorders like Insomnia are advised to use White Noise Apps.
White noise machines are available on the market that helps you get a better night's sleep. However, several iPhone apps can produce the same sounds, so it's best to use headphones to listen to them.
List of 10 Best White Noise Apps for iPhone
Below, we have listed some of the best White Noise Apps for iPhone that is free to download and are available for iPhone. Let's get started.
White Noise Lite is a free white noise app for the iPhone that can help you sleep. The app brings you a variety of White Noises, each of which is designed to help you sleep, relax and reduce stress, increase focus, ease headaches, and so on.
White Noise Lite's key features include 50+ carefully selected sounds, background audio support, an Audio mixer for mixing noises, and advanced controls for volume, balance, pitch, etc.
The app also brings a number of sleep sounds in addition to the White Noises. There are sounds of air conditioners, airplanes, the Amazon Jungle, beach waves, wind, blue Noise, thunderstorms, etc.
The same app developer created White Noise Lite and White Noise. Above, we've listed White Noise Lite's advanced version.
Since both apps are made by the same developer, you can expect them to have the same features. The sound catalog is almost the same, with sounds for airplanes, air conditioners, the Amazon Jungle, crickets, heavy rain, heartbeats, etc.
White Noise allows you to mix sounds to create a unique one, similar to White Noise Lite. You can access more than 50 free sounds, Alarm Sounds, and other features if you purchase the full version.
The most recent version of White Noise also includes a feature called Sleep Log that keeps track of your listening statistics and sleep patterns.
You can look at the sleep log to learn more about your sleep patterns and listen to statistics.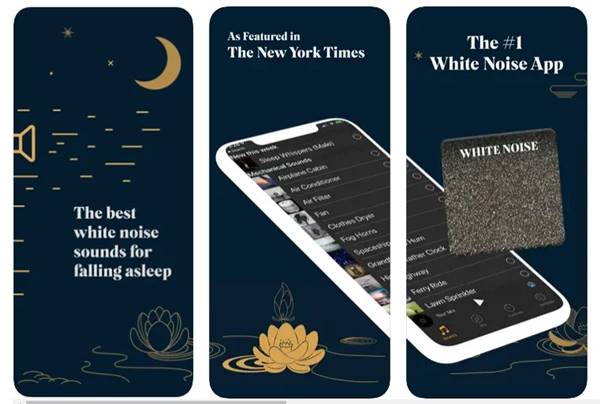 With a variety of sleep sounds, White Noise Deep Sleep Sounds is an app. For those who have trouble sleeping or suffer from sleep disorders like Insomnia, this app could be very helpful.
The app features relaxing sounds of nature, meditation, ASMR, lullabies, etc. With White Noise Deep Sleep Sounds, you get Brown, White, and Pink Noise.
White Noise Deep Sleep Sounds, like every other sleep sound app for iPhone, lets you mix different sounds to form a unique combination.
You can also use it to create a zen-like meditation environment.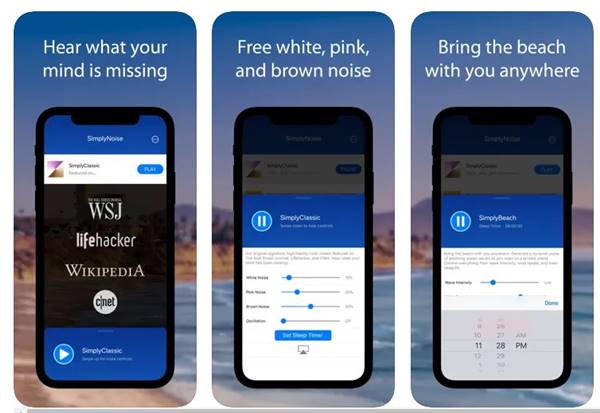 SimplyNoise is for people who want to relax their minds after a long, busy day.
According to the Apple App Store, Its color noises are used in schools, workplaces, and clinics all over the world to help people relax, focus, and sleep better.
It brings you a few carefully chosen white, brown, and pink noises. You can mix these three noise categories to form a unique combination.
The app is free to download, but most of its features are locked behind a paywall. So, in order to get the most out of the app, you must purchase a subscription.
Sleep Pillow isn't as popular as some of the other apps on this list, but it's still one of the best sleep sound apps for iPhone that you can use right now.
With its high-quality, carefully chosen, relaxing sounds, the app is already on many well-known websites.
The app's sleep sounds can help you create a relaxed environment and ease you into a cyclical sleep pattern.
This app also has other useful features, such as a sleep timer with a slow fade-out, an alarm clock, nature images, etc.
Say goodbye to all those sleepless nights and all-day stress with White Noise Deep Sleep Sounds. The app brings a unique collection of soothing and calming sounds that can help you relax and sleep well.
The app's white Noise and deep sleep sounds can block out annoying noises and help you feel calm, relaxed, and soothed.
Not only White Noise but also brings a variety of sounds in categories such as sleep, meditation, lullabies, classical, relaxing, ASMR, and more.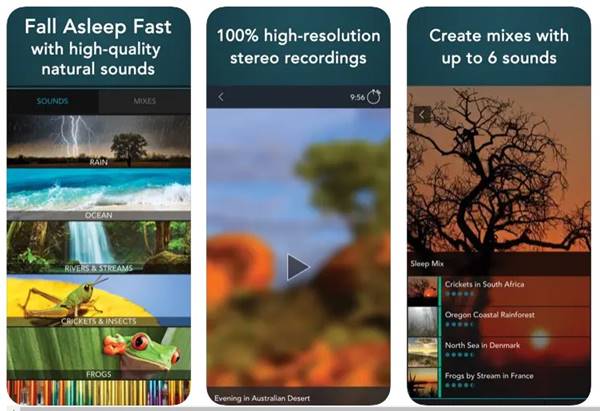 Millions of iPhone users use Soothing Sleep Sounds as their preferred app to fall asleep faster. It's a sleep sound app that lets you relax, focus, and calm your mind.
At the time of writing, Soothing Sleep Sounds has ten different categories of sleep sounds. All of the sounds on the app are high-quality and can help you focus and sleep better.
A sleep timer, Pink Noise, White Noise, and Brown Noise are included in the 25 natural sounds you receive.
The app also has an audio mixer that lets you create mixed sounds from six different sounds.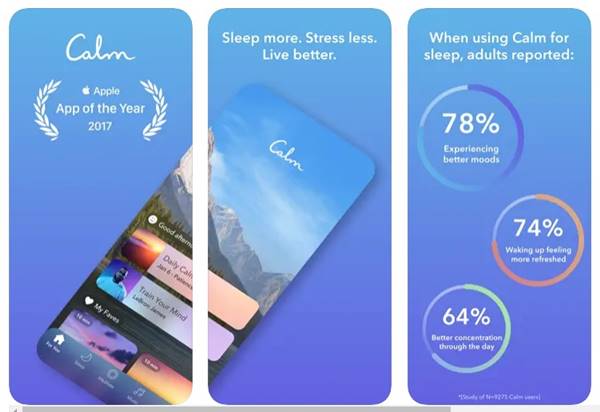 The best meditation and sleep app on the list may be Calm. This is a top-rated iPhone app that has been downloaded millions of times.
Discover sleep stories, sounds, music for meditation, and more with this app. You can also access guided meditations through the app.
If we're talking about sleep sounds, you have a few options, but you have to purchase the app's premium version to get them all.
Calm is the app to download if you're looking for one that helps you get healthier and start good habits.
BetterSleep, formerly known as Relax Melodies, is an app that brings sleep sounds to you. At the time of writing, BetterSleep gave you access to more than 300 sleep sounds and music tracks.
There are sounds of nature, ASMR, white Noise, water, isochronic brainwaves, binaural beats, healing music, and more. In addition to the sleep sounds, BetterSleep also brings a sleep tracker, a sleep recorder, amazing stories, and relaxing guided meditations.
BetterSleep's only flaw is that most of its useful features are locked behind a paywall. The app has a lot of in-app purchases, and the items are pretty pricey.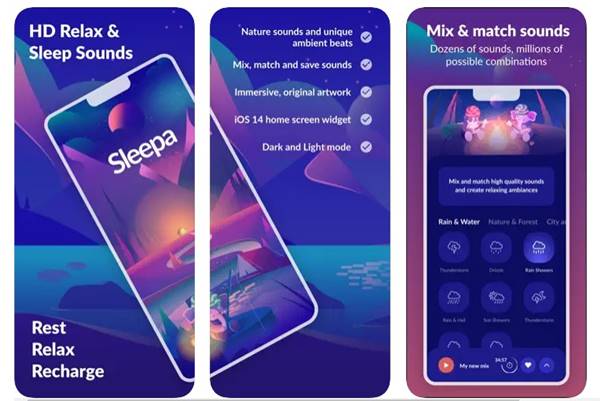 Sleep is not a very popular app, but it is still one of the best White Noise apps for iPhones available today. The app is easy to use and is designed to help you sleep faster and better.
Sleepa's sound library is free to access and has more sleep sounds than any other app. You also get rain sounds, nature sounds, binaural beats, and more in addition to the White, Pink, and Brown Noise.
It's important to point out that Sleepa's functionality and user interface are clean and easy on the eyes. For easier access to your sleep sounds, you also get a widget for your home screen.
So, these are some of the best white noise apps for iPhone that you can download and use. Leave a comment below if you want us to add your favorite white noise app. Also, if the article helped you be sure to tell your friends about it.