Did you lose essential files for the final presentation due to crashed hard disk? Or were your assignment papers saved on the hard disk that you failed to access, and you don't know how to deal with it.
Losing files, video, images, audio, and other data is quite common. Sometimes, you accidentally remove them, while other times, they are just wiped out from the system due to corruption, hard disk failure, the thermal shutdown of the system, and many more. But worry not. We will get you covered by giving a step-by-step guide using a reliable data recovery software, Recoverit Data Recovery.
There are so many data recovery tools in the market that you can choose from. Some are efficient, while others might add more problems to your bucket. We will explain how Recoverit helps and also share some tips to avoid hard disk crash in the future.
Crashed Hard Disk Recovery with Wondershare Recoverit
Available on Windows and Mac, Linux PC, Wondershare Recoverit can save lost data from any kinds of disaster, including system crash, virus attack, device formatting, or other unknown reasons. Its intuitive user interface and higher efficiency make it ideal for everyone, even a non-tech guy.
Key Features
Wondershare Recoverit is loaded with some of the best features you might not find anywhere else:
It can retrieve files in different formats, like MP4, MP3, JPG, DOC, XML, XLS, and many more. In other words, it supports about 1000 different file formats, which is why you won't have to worry about not being able to retrieve lost files from the crashed hard disk due to the file format.
Recoverit can even retrieve lost data from almost all kinds of devices, including hard disks, SSDs, external hard disks, flash drives, HDDs, and many other devices. Therefore, you can store the files with most electronic devices.
Apart from recovering the files due to a crashed hard disk, it can also recover data in several other scenarios, like accidental deletion, virus attacks, and more. Therefore, you can remain worried about the performance of this beautiful software.
The software can even restore any corrupted file from the hard disk, ensuring no data is lost. So, you will get all the files in the same format and original quality, which is one of the plus points of Recoverit.
If you choose the Advanced Video Recovery feature, you can restore broken, truncated, and several such videos that would otherwise be useless. This particular data recovery software allows you to repair the videos based on your requirements.
You can scan the files on the storage device and preview the recoverable ones with this free data recovery software.
Step-by-step Guide
1. Launch Wondershare Recoverit on a PC or Mac. From the home page, click on Hard Disk and Locations from the left-hand panel. After this, select a particular location under the Hard Disk Drive or Quick Access Panel.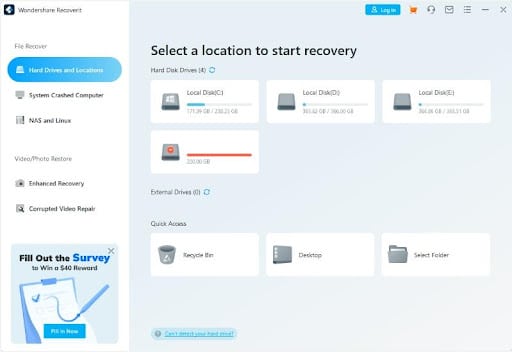 2. Once done, Recoverit will initiate the scanning process. It will scan and list all the files stored in the selected hard disk location. You can see the scanning status in real-time and even view the files without interruption.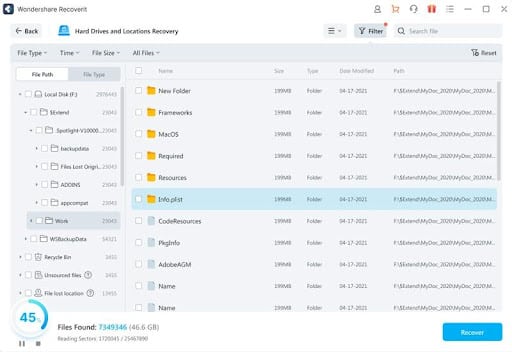 Since there will be so many files, you can sort them based on the file type, time, and size. Plus, there will be a filter option on the right-hand side of the screen to help you view files of your choice.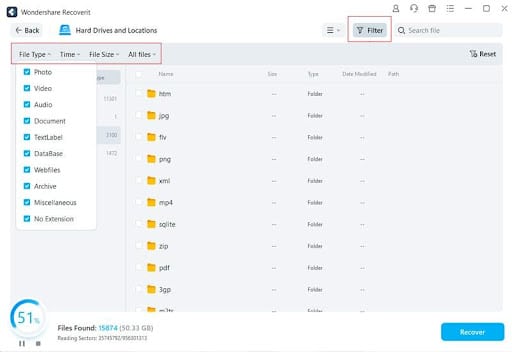 If you already know the file's name or any word you used to save it, type the same in the keyword box in the top right-hand corner.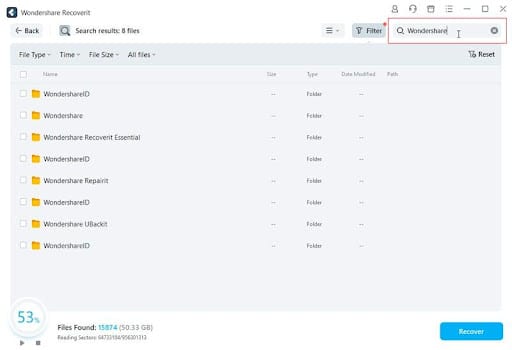 3. Once the scanning is complete, you can preview the files in the access mode to check if it is in the excepted form.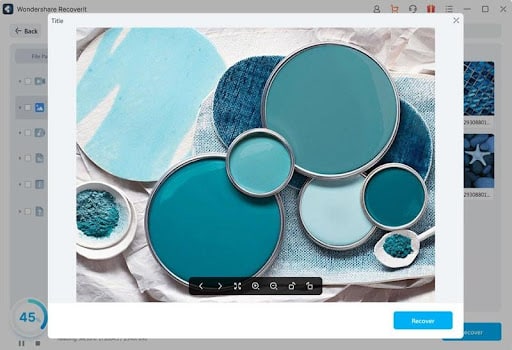 4. After this, select the files you want to recover and click the Recover button. A popup window will appear from where you must select the location where the recovered files will be stored.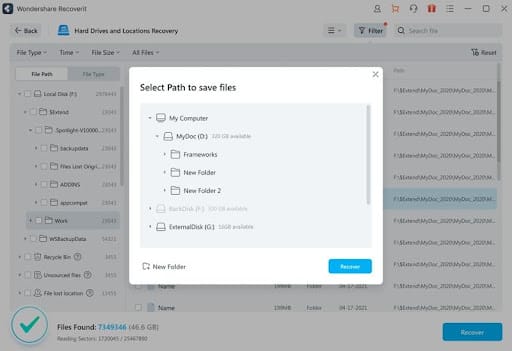 Causes of Crashed Hard Disk and Loss of Files
There are many reasons why the hard disk can crash, and you may lose the files. Some of them are listed below:
A power surge can often lead to hard disk failures
Often water can damage the hard disk
Sometimes, the hard disk can crash due to firmware infection
Virus and malware also lead to damage to the hard disk
If there is any issue with the internal components of the hard disk, it can fail
Storing any corrupted file on the hard disk also leads to its failure
When exposed to excessive heat, the hard disk can suffer from thermal breakdown
Tips to Avoid Crashed Hard Disk
If you want to keep the hard disk safe or avoid a crash, try the following ways.
Disconnect the hard disk from the system if it starts overheating.
Never keep the drive close to the water. If you accidentally spill over water, use data recovery software to retrieve the lost file.
Check the files stored on the hard drive and ensure none are corrupted.
Conclusion 
A hard disk crash is common when working on your PC or laptop. As you will have all the necessary files stored on it, losing the drive due to the faults is not affordable. This is why you should use free data recovery software like Wondershare Recoverit. It is a beautiful software that can extract or retrieve files in over 1000 formats. Plus, it can retrieve data from different types of hard disks. Thanks to its user-friendliness, you won't have to struggle much while using the software.